HOT SPOTS
Welcome to the Statue of Liberty
This gift of freedom was presented by the people of France to the people of the U.S. in 1886. This iconic lady, officially called "Liberty Enlightening the World," is recognized universally by people around the world as the face of freedom — but she is so much more than just a pretty face. During the late 1800's, images of a "yet to be constructed" statue appeared in newspapers and other print media. In order to raise funds for her construction the Statue itself had to become a brand, appearing on everything from champagne to lampshades. She became the face of fundraising on both sides of the Atlantic, generating money for her own existence. After her dedication, she became the face that welcomed immigrants to their new and unfamiliar home, the United States. After World War I – and the use of the Statue of Liberty's image to sell Liberty Bonds – she became the patriotic face of this nation. She continues to shine forth as a beacon of democracy, freedom, welcome, and patriotism.
Location: Liberty Island, New York (Ferry ride from Manhattan)
Phone: (212) 363-3200 Park Information          National Park Service          Facebook
____________________
Tours4Fun founded in 2006, is a thriving online travel supplier, dedicated to providing the finest online purchasing experience for all your travel needs. Our experts have searched the globe to find the best and most affordable tours and activities from trusted local suppliers. Thanks to our strategic partnerships, we now offer accommodation at discounted rates at more than 85,000 hotels around the world. Featured here is the 5-Day US and Canada East Tour: Niagara Falls – Toronto – Washington, D.C. Meeting point:
| | | | |
| --- | --- | --- | --- |
| 7:00AM | New York (Manhattan) | The Gray Line Visitor Center | 777 8th Ave., New York, NY, United States |
Book your 5-Day East Coast tour from New York to Niagara Falls and back at Tours4Fun Now!
This package includes:
4-night hotel accommodations
Ground transportation in air-conditioned van or bus
Maid of the Mist (April or May to late October)
Thousand Islands cruise (May to October)
Professional tour guide
Amish buggy ride
Free WIFI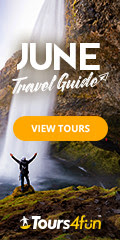 Tours4Fun is excited to announce our June Travel Guide travel deals of up to 20%! What better way to kick off the summer season than to book the trip of your dreams! Check out our newest tours and savings on trips across the world!
June travel guide – save up to 40% off with Tours4Fun valid through 6/28!
 ____________________
FASHION
 Michal Negrin – upscale affordable luxury, our exquisite creations reflect a captivating and exclusive style.  Michal Negrin is a unique international brand, offering original hand-crafted jewellery, fashion and home décor. Since inception at a market stall in 1988 in Tel Aviv, the Michal Negrin Brand is famous all over the world today, and continues to expand in far corners around the globe. With a crew of over 500 employees and more than 65 international concept stores in many countries, Michal Negrin stores offer a unique experience, attracting shoppers with our exclusive fragrances, music and magical atmosphere.  Twice a year Michal Negrin offers two major, and two mini collections in four categories: Classic, Lace, Movement and Vintage. All of our collections are hand-crafted, combining Swarovski crystals and offering large scale color combinations.Michal Negrin's design is recognized and admired for its distinct unique signature'. Michal's creations are timeless – and always remain fashionable. Michal Negrin offers that "something special" time and again – and we invite you to embrace our world of fantasy optimism and "happiness" creations all over the world.
Michal Negrin's Mission Our Mission is to inspire women on every continent and in every country on the planet. By continually creating enchanting jewellery, fashion and home décor items, hand-crafted by masters from the finest materials, we enable our customers to express their unique individuality and style.
Swarovski Handmade Rings on sale – 15% off SITEWIDE. Michal Negerin
____________________
SHOPPING
Shop Amazon for unique top picks on Manhattan at:
____________________
FOODIE
TouchBistro is ranked the Best Point of Sale (POS) for Restaurants for 3 consecutive years. It is perfect for any full service, quick service, bar, cafe, brewery, or food truck, aiming to increase sales, improve customer experience, and make better decisions. TouchBistro is the #1 iPad POS system for restaurants in 37 countries. It helps increase staff efficiency, helps you serve your customers faster, and even has management features that allow you to track inventory, customize your floor plan, edit menu items, and more! TouchBistro is perfect for restaurants and cafes of every size, offering both full service and quick service options.